June 2018
| Mon | Tue | Wed | Thu | Fri | Sat | Sun |
| --- | --- | --- | --- | --- | --- | --- |
| | | | | 1 | 2 | 3 |
| 4 | 5 | 6 | 7 | 8 | 9 | 10 |
| 11 | 12 | 13 | 14 | 15 | 16 | 17 |
| 18 | 19 | 20 | 21 | 22 | 23 | 24 |
| 25 | 26 | 27 | 28 | 29 | 30 | |
Calendar
Latest topics
»
The AFK thread
by
Tecuani
Mon Nov 25, 2013 5:15 am
»
Basic - Camouflage and spotting - 26th of November - 19:30UTC
by
ZerONRNS
Mon Nov 25, 2013 4:42 am
»
SGTA is moving!
by
Vallu01
Sun Nov 24, 2013 9:57 am
»
Trying to understand the T-34...
by
Vallu01
Sun Nov 24, 2013 3:53 am
»
Hello from Prometheus
by
Pendergast
Sun Nov 24, 2013 2:15 am
»
Repeat of peek-a-boo lesson?
by
JosefSvejk
Sat Nov 23, 2013 10:57 pm
»
M46 Patton, wat to do .vs TD division
by
Rajahz
Sat Nov 23, 2013 9:46 am
»
T-44 Patrol Duty
by
Wen90
Sat Nov 23, 2013 4:45 am
»
Peek a boo lesson
by
Madhias
Sat Nov 23, 2013 3:51 am
M18 Hellcat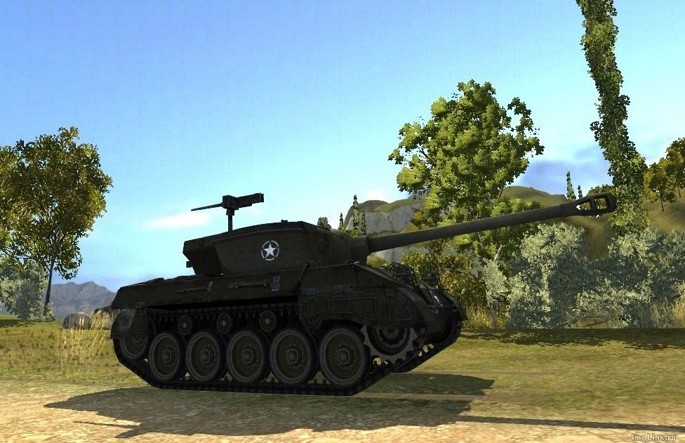 Tier 6 USA Tank Destroyer
a high mobile gun platform with outstanding tank killing characteristics
The 540 hit-points of the M18, allied with a flimsy hull armour of 13mm all around make it one of the most special vehicles setups in tier 6.
The turret layout is that of a open top with armour in front covering the 76mm, with sides and rear, respectively 31mm and 44mm.
At tier 6 this values alone are a complete shade and deserve no comparison with its counterparts, especially other vehicles of the same class. But the strength of the M18 lies elsewhere.
The stock engine will be adequate, with 350 horsepower it will give good speed, but lacks on power per ton which reflects on the acceleration. The top engine, the Continental C4 will pull you from standing position like a rocket, with 460 hp and close to 19 hp per ton. On top of this, the speed forward and backward are equivalent.
The tracks will permit you to mount all the necessary equipment and modules you will need, and on top of that will ensure the vehicle traverses way faster, even if the values don't differ and state the same 30 degrees per second.
Mind you that the turrets will turn at half the speed of the hull, at 16 degrees per sec, but you can improve this with consumable Oil.
Out of the tech tree the stock gun, a 76mm L/50, should be a known gun already, as it is used since the M8A1. The Wolverine uses this same gun. It is adequate if you go to battles where there are many lower tiers, but to pose a threat onto the tier 6 heavies it will require patience and more aiming time, which the Hellcat might not possess given its weak potential to absorb damage.
The tier 6 guns, the M1A1/A2 can penetrate a bit better with improved accuracy, capable of going through 128mm of armour and a fair chance of hitting beyond 100m with accuracy around 0.35 – 0.39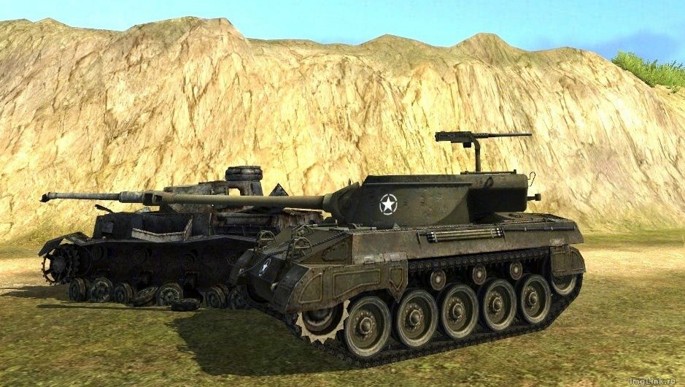 What makes the M18 Hellcat a Tank Killer ( note that i didn't use the destroyer word! ) is its final gun on the tech tree. The M3 gun will dish out a solid 1800 result damage per minute against any tank that relies on armour given its high penetration power with a solid 160 average. With a gun like this you can rely on fast aim and less careful shots against most targets up to tier 8.
Keep in mind you will need time to aim, well over a second to achieve maximum accuracy, so play accordingly.
The radio is also another feature which will influence all the games played. The massive 700+ meters signal range of the SCR 619 will ensure you have the entire flow of battle right on your mini map, and you will need it, as it will be shown later.
For a elite M18 Hellcat one must sum up to 40,900 XP and a non-premium subscriber with a average performance in both victories and defeats should have it fully developed under a hundred battles.
The stock price is 950,000 which is a reasonable investment for a non-premium account given that the repair costs are low, and revenue from the average victories can cover expenses and give a good profit margin – around 20% of the expenses, including the ammo and full repairs.
Repairs are relatively cheap to the profit potential – on average with no internal modules damaged, it is around 4600 credits full repair. Quite a bargain.
Ammo cost for a full complement of AP, 30 shells, is 7650 credits. This price gives you great flexibility in carrying a few round of APCR, say 5, at 4000 each.
APCR shells on the Hellcat are devastating in any tier, with a base penetration of 180 you will aim to put them in flames, to kill their commanders and even give them a scare onto internal ammo rack parts. Damage is low if you get dragged to top tiers, but remember the damage per minute potential and you can neutralize three times your tier count with a 13mm armour tank.
----------------------------------------------------------------------------------
Full crew consists of Commander, Gunner and Loader in the turret space and Driver plus the Radio DJ trapped below in the confined hull.
Good skills/perks to assign to them as soon as the crew reaches the 100% mark are:
Commander: Mentor - ensures rapid evolution of the crew
Gunner: Dead-Eye - every shot counts
Loader: Repairs - busted tracks are a no go
Driver: Repairs - same as above
Radioman: Situational Awareness - to ensure a successful ambush
Alternatively the full Camouflage skill can be immediately assigned as first skill level, given the "TD" nature of the vehicle, but reliance on typical sniper role is not the M18 Hellcat strength, so i chose skills which enhance some of the vehicle strengths.
----------------------------------------------------------------------------------
Advantages versus Disadvantages


Fast mover but if caught in the open is a dead tank.



Fast reloader but cannot exchange fire from a fixed position with opponents on the assumption the armor is inexistant.



Open top gives a bonus to spotting sweeps but it is still a TD, therefore, better at not being spotted than at spotting.



Open top also ensures the gun depression is more pronnounced that a close turret counterpart but is very vulnerable to explosive shots.

----------------------------------------------------------------------------------
Equipment and Consumables
The Hellcat is the "vietcong" style amongst all the tank destroyers tier 6 and up. It relies on camouflage, deceipt and fast killing abilities.
Use of a Cammo Net, Gun Rammer and Optics is a good combination to enhance all three main strengths of the vehicle. You will stay low when needed, will fire more when required and will warn the team of enemies approaching.
Repair Kit is a must have. There are always situations when you will dodge a shot and get a zero damage hit but your tracks will get busted.
Oil !!!!!!
Enhances acceleration and turret rotation. Dropping a Fire Extinguisher or the MediKit for this one ensure you have a more all-round bonus to the capabilities of the tank than one slot used for a situational event – fire or death of crewman.
For the third i'd advise the Medikit, for you cannot spare gunner nor driver.
----------------------------------------------------------------------------------
Final Notes:
The Hellcat requires balance in both patience and daring. It relies on opportunity and mistakes of the opponents.
It is a vehicle that relies more on the player than most other tanks because it cannot stand its ground and may well have to fall back, withdraw, reposition constantly during an entire battle. This requires  total attention to the minimap and the flow of battle – again, your top radio has massive range, it has the purpose to let you know where to go, where top ambush, where to retreat to.
Always take shots to enemy tanks, even if missing. Attracting attention to yourself might save the HP of a friendly, but don't sacrifice your vehicle ever. The M18 is not worth to be exchanged death for death unlike some other models for as the battle goes on its gun will make the difference. It may not "drive" the battle, but will surely decide it by eliminating enemies in fast succession and creating necessary chaos behind enemy lines ( forcing a cap for 5 seconds just to turn their attention  and then staging an ambush ).
I have to bring a detail because i see this mistake way too often - The Hellcat is not, i repeat, is not a spotter. It can spot for sure and will do it with reasonable success especially if used on a open flank by relocating fast and hoping the arty to be supportive but going spotter style against a expecting enemy it will go to the wreck chat very fast.
As main tips i'd recommend always having good knowledge of terrain use, keeping several obstacles between you and the opponents which are not requiring your direct attention. Always have a fall back position in mind, even if it is a small fold in the ground, your rearing speed and agility will get you out before the enemy can aim proper. And always make your plan on the fly, don't be static and adjust to the flow of battle.
Summing it all – The M18 is a Tank Killer and suits any battle tier given a solid configuration and crew.
Have fun.
Originally written by Hethwill_Khan
Last edited by Ding760 on Fri Oct 04, 2013 1:21 am; edited 1 time in total



Posts

: 1179


Reputation

: 99


Join date

: 2013-02-07


Location

: The People's Republic of China!



A a Kitty player i would say:

Commander: Mentor - ensures rapid evolution of the crew *wrong !

I took Six Sense as 3th perk, and oh man, i wish i had i took it as 1st perk.

Since you are basicly on the top list of every Arty (Hiding in bush, spotted, FREEEEE KILL by Arty..), you NEED to know when to reallocate you Kitty.
I thank God every time i see this shiny light bulb in my screen knowing that SOMEBODY SOMEWHERE has spotted me... back up, turn, run...hide again....

So Six Sense is essential to get first !

Also note that the premium gold rounds have a faster velocity, so, eventhough the APCR looses it PEN during flight over distance, the ACC is higher due to the speed of the round.
I drive with 15/15 AP/APCR. Not only for pesky armor thanks, but also for these nice 500 meter targets.

Last thing people tend to forget, and i learned by lesson and shame. A true kitten, when cornered scratches and bites..... Your Kitty is plain DEAD. Point. Look at the mini map, think... if i see an IS/KV1s/T29/some BIG and i keeps moving towards me, where the hell is my escape route ????
Even a PzIV with derp can kill you in 1 shot, so basicly:

1. Spot
2. Shoot
3. If NO LIGHT BULB goto 2, else 4
4. move you ass, retreat and go to 1.

The kitty can be everywhere at any giving time at the speed of a T-50.... use that speed ! Lott of people only look at the sweet gun and 240 dmg, but it is the speed AND the gun that makes this tank awesome.

If you like to know more, or play, train... just PM me.

Peter

P.S.
You only have 30 rounds ! Make every shot count 100%.....
You know you are talking to a pro at that tank when he complains there's ONLY 30 rounds....

Although I have to agree...while I have never ran out of ammo on the Hellkitty thus far...I have reached the stage in which I am constantly ending the game with only 2-5 shells left.



Posts

: 1179


Reputation

: 99


Join date

: 2013-02-07


Location

: The People's Republic of China!



Hellcat is the only tank I've had the problem of running out of ammo more than couple of times. It's easy spam the shots in Hellcat with the quick aim time and good accuracy. Got my only Fadin's Medal on Hellcat so far also.
_________________
Skill is not an unlock
Instructor
Deputy Commander
ADMIN





Posts

: 950


Reputation

: 73


Join date

: 2013-02-06


Location

: The Cold North



Exactly my point also.... you tend to shoot a lott with the Hellcat. The Acc of 0.35 looks good, but at 400+ meters it misses a lott (hence the APCR advise)
it happend to me 2 times that i ran out of ammo, 1x i was (lucky) with another team mate who made the last kill while i was capping, the second time i was all alone against a SU-100.... while capping he showed up, i tried to ram him....

Battle lost.....
btw, i just noticed i have place nr 15 EU server wide with battles in the Hellcat *proud*

Got the Kitty today, and am currently working on getting the turret ang gun upgraded, then the radio and the last engine. VonTrox, I'd love to join you for some Hellkitty fun (and advice) someday in the near future. (Btw, crew is at 100%, and first skill at 60%+ due to using me T40/Wolverine crew.)



Posts

: 256


Reputation

: 10


Join date

: 2013-02-09


Age

: 43


Location

: Norway



Sure man, thats no problem. Always fun to learn other team members some tricks and learn from other in the same process..
We can platoon or do some battles/tryouts in training room

I am (almost) online every evening (don't expect to much at Saturday evening around 11 o'clock due to my Captain Morgan usage...)
I have fallen in love with this tank! It is without question the most fun I have had in this game thus far. If you ave never played it I highly recommend it.



Posts

: 90


Reputation

: 0


Join date

: 2013-06-14



Just bought one again and it's awesome!
INSTRUCTOR





Posts

: 293


Reputation

: 19


Join date

: 2013-02-22


Age

: 49


Location

: Portsmouth



Got one and can't play it well - like most (OK all) of the tanks in my garage




Posts

: 105


Reputation

: 4


Join date

: 2013-05-20



Hello almost every time i start this map from the south side i take this position and almost always get in excess of 2k damage with some games as much as 4k.
my hellcat has full camo skill and binocs and camo net. ive marked the bush on this map

if you have some other tanks near you spotting damage can be as much as 3k
get there fast and stay still.. even scouts on the other side wont see you and you can finnish them off without being detected. this position is courtesy of talizon pro scout website.
enjoy



Posts

: 90


Reputation

: 0


Join date

: 2013-06-14



---
Permissions in this forum:
You
cannot
reply to topics in this forum